We always have some useful spare parts for you, but we prefer to leave the wide and flat assortment to local bike shops and bike supermarkets.
Spare parts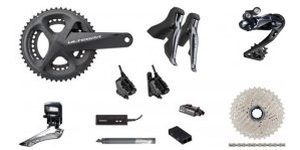 However, we are prepared for everyday biker needs, there are chains, hoses, coats, lights, locks, bicycle baskets and everything else that comes up.
Trendy on the road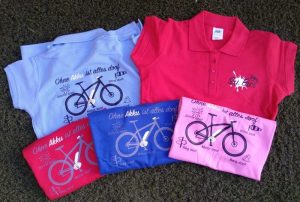 In order to keep you afloat and trendy, we always have nice helmets but especially our beloved "Su Bici – Los Cancajos" and "Without battery everything is stupid" TShirts and Polos for you in the shop. But there is also the very simple neon warning vest!
Outward bound
Always the right bag on the bike – pannier for the tour, basket for quick shopping, special bag for luggage and spare battery, business bag for the appointment and chic shopping bag for the city stroll. We have them in store or can order at short notice. We prefer the products of well-known manufacturers such as Ortlieb, Vaude and Haberland.
Bosch accessories and spare parts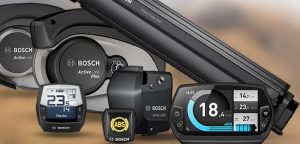 We are licenced Bosch dealer and supply you with the appropriate accessories, from battery to charging cable. Of course, you are welcome if you want to connect your pedelec to the diagnosis to see if error messages have accumulated or if a software update has to be made. Of course we like to download that and install it for you. IMPORTANT: Bring your bike, battery and computer.
From now on we can update you the engine control of the Performance CX series to the new eMTB mode.
Communication systems from

CEECOACH

While sailing, biking, kayaking, climbing, riding or sufing you do not have to enjoy the view alone but share it with your partner or group, convenient communication via headset and Bluetooth. We are resellers for award winning CEECOACH communication system. Come by, try it!
Boschzubehör
Compact Charger 2A
Standard Charger 4A
Fast Charger 6A
s. Preisliste
Angezogen
Polos

"Ohne Akku ist alles doof" in diversen Farben und Größen
22 €
Kommunikation
CEECOACH Bluetooth Kommunikationssytem bis 500m Reichweite für Biker, Kanuten und Freizeitsportler, die sich was zu sagen haben
- Communication system for bikers, canoeists and freetime sportsmen who have something to talk about
- Sistema de comunicación para ciclistas, piragüistas y deportistas de tiempo libre que tienen algo de qué hablar

Ceecoach 1 - Headset kabelgebunden
Ceecoach 2 - Buetooth Headset kabellos

Kit Single ab 121 €
Kit Duo ab 199 €

- Für Segeln, Kajak, Kiten, Surfen, WIndsurfen, SUP
- For sailing, kayaking, kiting, surfing, surfing, SUP
- Para navegar, kayak, kite, surf, surf, SUP
Kit Duo Extrem (wasserdicht) 250 €
Radtaschen - bike bags - bolsos para bici
- Gepäckträgertasche Haberland für Gepäck und Reserveakku
- luggage and spare battery
- equipaje y bateria de reserva
Details
44,95 €
- Einzeltasche Business (Johann)
- bolsa de negocio
- business bag
Details
49,95 €
- Shoppingtasche Melanie
Details
69,95 €
Gepäckträgertasche CUBE Travel
Details
Video
45 € / Stück

Karten und Bücher
111 Orte auf La Palma, der Klassiker für alle La Palma-Besucher
17€
Karte 1:30000
Die beste Karte für alle Aktivitäten auf der Isla Bonita - zwar nicht jede Milchkanne verzeichnet, aber eine ausgezeichnete Grundlage für jede Navigation
10 €
Kleinkram
Für BOSCH-Systeme
Kettenblatt
14 bis 20 Zähne
s. Preisliste
Lichtkabel für Bosch Motoren
für Scheinwerfer/Rücklicht-Installation
s. Preisliste
USB - Kabel zum Laden
des Smartphones von Intuvia/Nyon
s. Preisliste
PIN-Abdeckung Akkuhalterung
s. Preisliste