Our store is located next door to DiveCommunity La Palma (formerly La Palma Diving Center), so we know that the team there has as much fun "working" with you as we do. We also enjoy the feeling of weightlessness from time to time and dive into the deep blue of the Atlantic Ocean.
The shop offers everything that makes the diver's heart beat faster.
After the dive you can have a coffee with the bikers and talk about the experiences of the day.
There is also a very nicely illustrated "dive travel guide", the dive site maps are, if you believe well-informed circles 😉 not really to scale, but nice to look at!
Diving on La Palma is almost always from the beach – depending on the weather one of the many dive sites is approached. So there is often a small island tour on top. But if it fits or the accompanying partner has other plans – no problem, La Palma offers many other activities. This makes the island perfect for a relaxing and at the same time eventful vacation. Just relax while hiking or "experience" the Isla Verde on the EBike.
General information about diving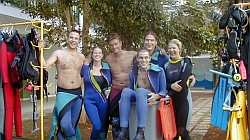 Diving on and off the Canary Island of La Palma means diving in a unique underwater world characterized by primeval and, on a geological scale, fresh lava eruptions. Therefore also "diving at the volcano".
La Palma impresses under normal zero with its caves, archways, lava formations and visibility. Some of the lava caves are quite impressive, although not always as long as the chapel cave in Los Cancajos with its air dome for surfacing.
A wonderful summary is given by a Thomas in the "Tauchernet": "There are dive sites of barren beauty that others might describe as >romantic<. This landscape of solidified lava is, in its bizarre violence, full of mystery and sometimes dramatic revelations. The pathetic may be forgiven".