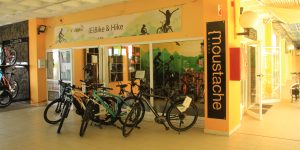 Plenty of parking in the immediate vicinity and in front of the door, the best climate for active vacations, a well-developed tourist infrastructure and especially the possibility to start the most varied bike tours right on the doorstep.

And here you can find our offers of bikes, BOSCH accessories, equipment, spare parts, tools, shirts and whatever else we have for you! The virtual shop window is of course not complete, but it should give you a first impression.
In our shop you can expect everything that makes the cyclist happy on almost 200 m².