How to find us – Los Cancajos and "Su Bici"
you will find us directly at the beach
Opening hours
We are available outside of these times by phone (we have finally a 24h service for our customers ;))
Special dates by arrangementDue to tour activities, the shop can also be closed during the opening hours, so call ahead if it is important.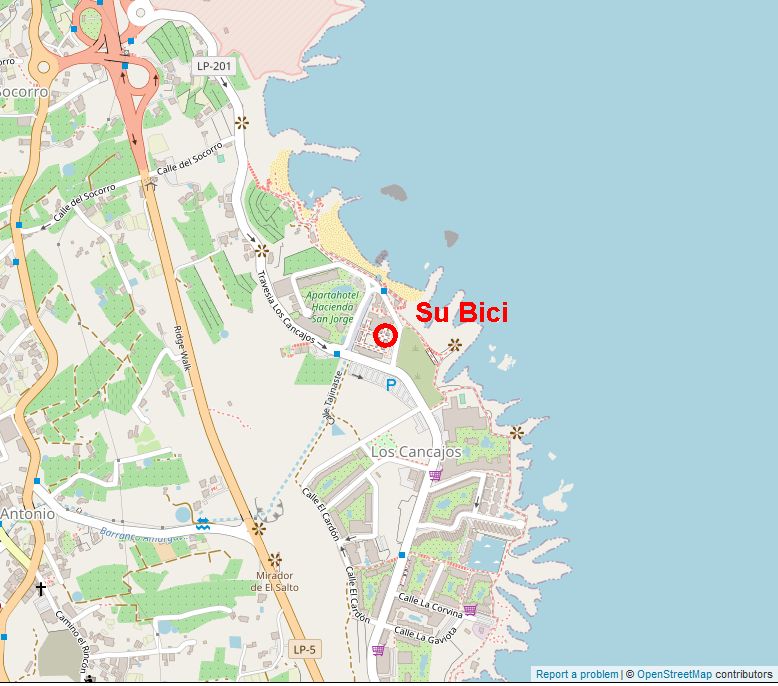 Licens – Terms – Lizenz – Nutzungsbedingungen
Contact Su Bici
With cruiseship on La Palma
Visitors from the cruise ships also find us quickly and easily.
Directly opposite the port you will find taxis and the bus station.
The taxis directly at the cruise ships usually only want to drive you around for a whole day, so just go out of the harbour area, there is a taxi rank with "normal" taxis.
Taxi
The taxi fare should be well under €10 – give the driver as destination "Los Cancajos – Centro Comercial – Tienda de bicis / Centro de Buceo".
Bus
Line 500 takes you to Los Cancajos every half hour for 1,50 € – get off directly at the first stop in town (tell the bus driver "Centro Cancajos"). I'm already there, our shop is on the ground floor!
Per Pedes – On foot
Just follow the coastline towards the south/airport. The walk takes about 1/2 to 3/4 hour. First along the harbour promenade, along the sea through a small industrial area with the insular power generator, next to the former barracks up the hill – you are already standing above Los Cancajos with a beautiful view of the coast. Enjoy the walk on the pavement down to the village, directly at the beach you will find the Centro Cancajos, a 5-storey apartment building with the commercial area on the ground floor (restaurants, car rental, diving centre and of course Su Bici !
Our opening hours
Our opening hours are not fixed but you should always be able to find us during the core hours of 10-15h.
We are also available by phone outside these hours (after all, we have a 24 h service for our tenants 😉 ).
Special appointments by arrangement
Due to tour activities, the shop may be closed at short notice during opening hours, so feel free to call in advance if it is important.
La Palma Active S.L.:
Centro Comercial Cancajos, Loc 201
Calle Punta de la Arena 1
38712 Brena Baja
Contact:
Susanne Bog
La Palma 0034 674 788850 – (Contact us with Telegram )
Germany 0160 94872634
E-Mail:     info[at]la-palma-active.com