La Palma Circumnavigation
You want to do without a rental car and experience La Palma up close and with all your senses?
Individual multi-day tours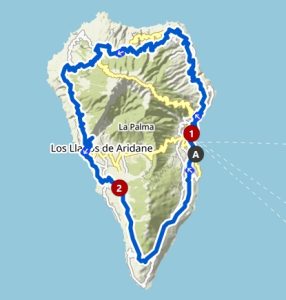 With our new 625Wh trekking bikes you can tackle complete island tours without any worries.
A complete circumnavigation is currently somewhat difficult, the connection between the Aridane Valley and the south of the island through the lava field is still closed to cyclists. But one of the possibilities is shown below.
We will be happy to arrange any necessary overnight stays for you and are always available for advice and assistance. Of course we will provide you with the necessary equipment for the tour, from panniers to sun protection!
If you want to be helped electronically with the navigation, it is a good idea to equip your smartphone in advance with a suitable app into which you can import our GPX files – e.g. Komoot or Wikiloc.
Make sure that you can work with offline maps if necessary so that you don't need any data volume. This works with Google-Maps, Komoot and Lokus to name only a few examples among many possibilities. It's best to install it at home and try it out.
As an additional service we can equip you with reserve batteries. There the range is almost unlimited and the worry about the battery life has an end.
But it also works without battery and with muscle power. Here is an example of a currently possible 5-day tour on normal MTB's despite road closures: