After years of weather forecasting in connection with bike tour planning, we recommend here a few weather sites, which we personally find very informative and helpful for your daily planning.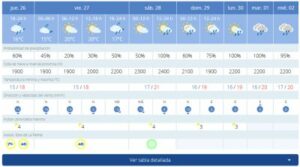 First of all there is the site of Aemet, where you can see the current weather report and the forecast for the next days for some places on the island.
The adjoining link leads first to the page for Santa Cruz de La Palma, you can then enter other places.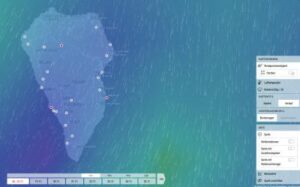 Since wind and wind direction play a very important role in all planning of bike tours, a look at the expected wind directions and wind strengths is almost obligatory. The website of the "Windfinder" is meant for surfers and kiters, but that shouldn't bother us. The site is quite reliable and the animation makes it very intuitive (wind, precipitation, temperature).
With a click on one of the weather stations you can create a forecast table for the respective location. Opposite e.g. for La Palma Airport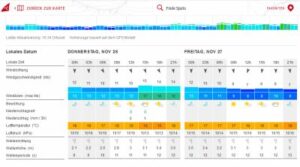 And finally some informative and helpful links to interesting websites.
| Webcams La Palma | Satellites | Watertemperature | Luftqualität | Gezeitenkalender |
| --- | --- | --- | --- | --- |
| | | | | |