Los Cancajos – A small place right at the beachfront. If you want to stay directly at the beach, we recomend only the two circled accommodation "Hacienda San Jorge" or "Apartamentos Centro Cancajos". All other accommodations are located in the second row or at the rocky coastline. Nevertheless, the ways are short, even from "Las Olas" (at the right) you need only a few minutes to the beach. For a better overview, you can simply simulate a helicopter tour – Los Cancajos to Santa Cruz from birds view.

Cancajos-weather und webcams

Here is a small preview of the current weather on sea level on the east side (city beach of Santa Cruz) – but as we know, the weather changes on La Palma extremely fast and is often not according to the predictions!
For all further and detailed weather information we do not want to reinvent the wheel. All you need is a link to probably the most comprehensive portal with weather forecasts, wind forecasts and many webcams in all directions and in different places on the island.
---
For e-bike tours the eastside is providing by far the best oportunities, if you don't want to rely on shuttles.
Los Cancajos on the eastside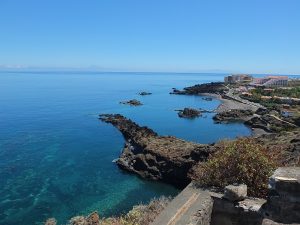 There's a myth that says, it's ALWAYS raining in the east and the weather is mostly bad, but a myth is just a myth, and if you take a look at the weather data, it's not true at all.
In fact there is no better town at the island to discover La Palma without a rental car.
Besides the impersonal sand desert in Santa Cruz the only beach you can visit all year round
(semi-)natural pools for children
accomodation near the beach,
a variety of good restaurants
just 10 minutes by e-bike away for the old town of santa cruz, as well reachable by foot in 30 minutes or you pay 1,20 and get there by bus (every 1/2 hour).
In the south of Los Cancajos there's bays where you can bath natural
providers for nearly every holiday activity (biking, diving, hiking, astro-tours,…) innerhalf the town, including shuttle and taxi services
a few supermarkets and small shops
different bus stops are serviced every half hour
Here's more detailed information about Los Cancajos. There is a panorama photo with hotel descriptions and different information about hotels, apartments and holiday activities. .