… at the most beautiful mooring of the Canaries
with P&O Cruises, Royal Carribean, Columbus, Oriana, Independance of the Seas, Aurora, Ventura, Columbus; Britannia, Azura, Queen Victoria, Queen Elizabeth, Seabourn Odyssey, Saga Sapphire, Black Watch, Braemar, Queen Victoria, Spirit Of Discovery, Amadea, Marella Explorer, AIDA, Mein Schiff, and ….
If you are coming to La Palma with a cruise ship you will arrive at the littel habour directly in town.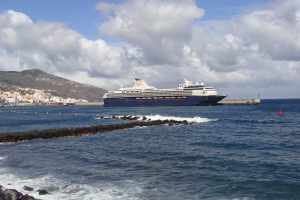 Meanwhile the port of Santa Cruz de La Palma is one of the main destinations for Canary Islands cruises.
The capital of the island has adapted to the cruise tourists and many people on La Palma live from the winter rush in the harbor.
You are also there and have booked a Canary round trip with a stopover on La Palma?
Especially on a small island like La Palma you are not dependent on the excursion program and the team of cruise ships, there are a variety of adventures and activities to enjoy on your own – an impression, overview and information can already be found on the net.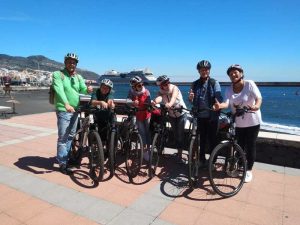 We recommend you urgently 😉 – who is surprised – to use an electric bike. No other island in the Canary Islands is steep as La Palma! Of course you can also rent a "normal" bike if you wish, but then you should really know what you are getting into :). For an informative and eventful tour you have to climb at least 500 meters – which is of course no problem with an EBike.
Our shop is situated in Los Cancajos, close by. 30 minutes by feet, 5 minuts by taxi and every half hour by bus. The bus terminal ist just oposite of the harbour, 2 minutes by feet.
Our guides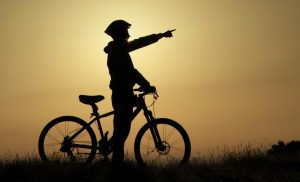 Su Bici is specialized in organizing you a perfect day on La Palma with qualified guides – which means local guides. They do not need navigation systems ? – on 2 wheels they give you the perfect insight into the beauty of the island, know the best places to be and can provide you with high quality inside information. Our guides have been living on the island for a long time and speak English fluently. The tours are also offered in German or Spanish.
We set the highest standards, so the maximum number of participants is limited to 6 persons.
Our bikes
We are autorized dealer for the German premium manufacturer Riese + Müller and the French EBike specialist Moustache, we offer correspondingly high quality bikes. All bikes are equipped with BOSCH engines system.
As bikes without motor we offer Cube MTB's and Kona-Gravelbikes. The MTB's can be equipped with road tires. So we can offer something for almost every tastes.
Service on the road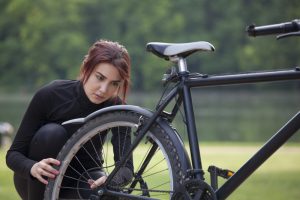 Our bikes are completely reviewed and maintained after each use. Nevertheless, it can never be ruled out that there can be a breakdown. Do not worry, whether on a tour or with rented bikes, we are always ready to help you either immediately or to pick you up and bring you to the cruis ship in time. In order for us to find you exactly, we recommend to load the app What3Words first, then you do not need a data connection to transmit the exact location.
As we are also specialized on tours and excusions for the special need of the guest coming in with cruise ships, so just give us a call or write us an email.
Storm and rain
In wintertime- the cruise ship season – the weather is very unpredictable. Maybe the planned daily activities not possible or extremely uncomfortable due to the weather -conditions. Who wants a tour – whether bike or bus over the beautiful island in fog or rain and see nothing? Therefore, it is a good idea to plan only activities for which there are alternatives in case of doubt and problems. We want you to keep La Palma (and us) in good memory and
    we offer you an alternative route (if necessary with shuttle) or

   cancel the tour – even in self-interest ? ,

    give you suggestions and ideas for an alternative daily program – and

    of course you get back the deposit

Navigation – Always on the right track
We provide you with GPS data for your smartphone or equip your bike with a navigation computer. Alternatively there is a detailed La Palma map (1: 30000) in the shop or printed roadbooks. Anyway-Don´t  worry, on an island like La Palma the navigation is really easy, you will not get lost! And if you do, then you tell us the three magic words (what3words) and we know exactly where you are. All you need is a smartphone, offline without any data access. We publish our best tracks in the web.


Special offers for cruise ship guests
Extra for short-term visitors compiled compressed tours with maximum fun and information content. Our offer ranges from the extended city tour to the complete panorama tour on the east side of the island.
We will gladly send you various tour suggestions to choose from, you can get a first impression of our Crusader special flyer – your day on La Palma with the e-bike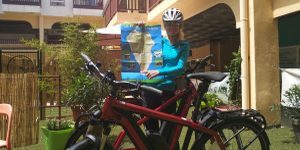 For short-term visitors we offer "compressed" tours with maximum fun and information content. That ranges from the extended city tour to the complete panorama tour on the east side of the island, depending on your needs and wiches.
We will gladly send you various tour suggestions to choose from.
All routes can also be easily done on your own with our rental bikes. We provide bikes, accessories and all information. A service vehicle is always ready!
Just give us a note via the contact form.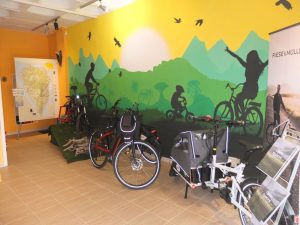 Of course we are happy, if you take the bus from the harbour to Los Cancajos  (Line 500 – 1,40 €, every 1/2 hour)  or maybe we can pick you up (just give us a note) – and rent a bike with us.
You will receive a short-  or detailed – bike briefing and intruduction, information about routes and the island, maps and / or GPX data, and off you go to an relaxed or adventurous day on La Palma.
We offer a wide range of perfectly maintained city, racing-, trekking- and mountain bikes. We are specialized on premium electric bikes but
we can provide you with a "normal" bike-
But  – traveling the on the steepest island in the world – we recomend an electric bike, unless
you train for the Olympics, then this is a good opportunity for mountain training.
?