Bike excusions in small groups
We show it to you! – In a relaxed small group (max. 6 people – with us quality goes over quantity) we show you the most impressive views, landscapes, beaches and other highlights of the island – with break, picnic and small talk. In addition, there's competent information about botany, geology, history and more.  Get to know other active La Palma bikers on the occasion.
We have prepared the right tour for every taste and training level, a first and small insight gives our overview map in the download area, but there are many more tours and tour suggestions for our customers. In summary, you can also view and download all our pre-planned routes in the overview.
Accordingly, you can drive all our tours with our rented bikes, we equip you with bikes, accessories and all information for a relaxed tour.

Most tours are on trekking bikes, but we also offer occasional mountain bike tours, there are a few corners and landscapes that we can only show you with a mountainbike. All tours are designed beginners too!
You can log in daily in the shop or if we should be "outward bound", always by phone and whatsapp (ES 674 788850 / D 0160 94872634) or by mail and / or contact form.
Guided Mini Tours, Sightcycling and Courses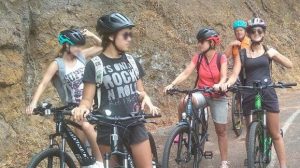 Of course we are happy to help the beginners and the newcomers with the first steps with the electric-bike.
There are daily and introductory courses in Los Cancajos – depending on the number of participants also in other places on the island – just ask us. We like to share our knowledge, so we offer for the pedelec novices short city sightseeing cycling tours to the island capital of Santa Cruz,  only 5 km from our shop. There is an guided tour to the city center with opportunities to shop in the most recommended shops.
Guided Trekking-Biketours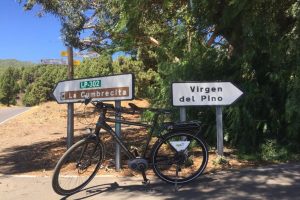 Our tours are organized in small groups only, can be changed depending on the weather and of course  according to the interests of the participants. We use for maximum driving fun on the well-developed road network only modern and safe trekking bikes with Bosch engines.
As we know almost every small roat, we like to move away from the main roads, even if there are small detours.
All tours are easy to handle even for moderately trained cyclists.
All tours can also be planned and driven on your own – we take care of everything you need – even the service vehicle is ready
Mountain Bike Tours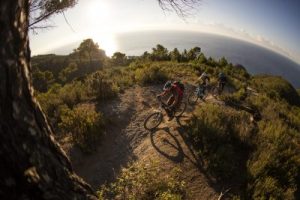 Our tour offer is primarily aimed at MTB beginners and less experienced bikers. From the official MTB routes we have selected the routes where you should have the most fun especially with the EBike. In addition, we have some interesting routes for you, for which we also provide suitable GPS material. At the end of the tours you will mostly ride your bike downhill back to Los Cancajos. We have largely dispensed with our own tour descriptions in the links, but simply linked to the page of the Cabildo (island government).
Please send uns a short Email with your ideas  or use the following form