Battery rent and charging station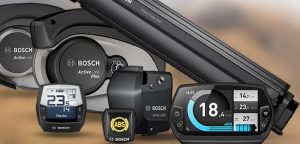 You don't want to miss your e-bike in your vacation and you want to take it with you? Normally no problem, but the battery isn't allowed in airplanes!
We have the solution for you! Arrange the transport of your "naked" bike as sports luggage, you will get the battery of us. Normally airlines are not very cooperative when it comes to that topic, so we did research and give you the information you need on our site transportation of e-bikes in airplanes
Rent of battery with own e-bike
At our shop you get frame-batteries, rack-batteries and integrated batteries of the Bosch family with 300, 400 and 500 Wh.

You will find the range of the batteries on an extra site called biking on La Palma – that's quite right for your first orientation. You are very welcome to recharge your battery while you drink a coffee/tea/water at our shop.
If you rent an e-bike elsewhere and you are planing a long tour from west to east and back, you are welcome to get a recharge from us – we define ourselves as charging station as well. If you don't have a Bosch-battery (Active/Performance Line), you need to bring your own charging device. Apart from that you only need to get a coffee and you plug your battery in – naturally for free.
If you want to be sure that we are in the shop, send us an whatsapp, e-mail, sms or call us.