We don't only rent bikes – we give you the advice you need for an unforgettable holiday experience!
We offer first class e-bikes and also "normal" bicycles (mountainbikes) in perfect conditions, so your exploration can get started.

We garantee the safety and reliability of our bikes, ALL bikes are equipped with
hydraulic disc brakes from Shimano

required lighting – on request you will also receive a safety vest

front suspension / possibly also with spring-loaded seat post
Bike and eBike – Rental
We offer:
tours and routes adjusted to your personal needs
printed roadbooks for orientation
GPS-Data as GPX file (GPX material download) – it's very helpful if you have already installed an app – if so with an offline map (Komoot, Locus, GoogleMaps, …)
A shuttle to the nearest and nicest viewpoints is mostly possible in a short-term – but hardly needed because you probably rent an e-bike 😉
Our service-car ist always available if there should apear any problem or you need to be picked up
You can get a first overview in the bike-Gallery!
Battery rental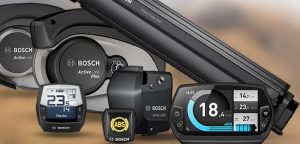 If you come with your own Pedelec, we offer rental batteries without the e-bike itself – therefore a reservation is needed. We offer Bosch – Powerpacks (frame- and rack-type). They are available in 300/400/500 Wh and priced differently – only rentable for six or more days. Recently we also try to list terms of transportation of different airlines landing on La Palma. Information and guidance as well as data or advices for routes and more are also available for people who only rent a battery 😉
Charging station
The range of the batteries is an important topic, so we made a graphic for you at the biking at la palma page
If you rent a ebike from any other company and need a recharge, you are very welcome to pass by our shop. We are also a charging station and would like to have a coffee with you ;). So you can cycle from the west to the east, recharge your battery at our shop and ride back – a short notification would be very helpful.
Replacement batteries
With the rental of our eBikes replacement batteries are available as well, just a small extra fee will be charged.
Depending on your planned tour, we will provide you with sufficient battery power, usually with at least 400Wh.
For long tours and island tours we can provide a replacement battery in a suitably designed bag combination. You can also opt for one of our "New Chargers", the fixed 1000Wh will carry you – almost – everywhere!
Introduction – Information – Introductory Courses
Before we rent out our bikes, we give you an introduction and show you the features of an e-bike. You can also book our introductory course  to get briefed intensely. If you book a tour or rent a bike for more than 3 days, the course is for free.
Prices eBikes – Bikes – Batteries
ALLE EBikes mit 500Wh Akku
Drive-Unit
1-2 days
3-5 days
6-12 days
>12 days
E - TOUR


400Wh

Moustache Samedi Silver
Performance
gefederte Sattelstütze
500Wh
27 €


24 €

24 €


21 €

21 €


18 €

18 €


15 €

Moustache Samedi Silver Open
Performance
gefederte Sattelstütze
500Wh
27 €


24 €

24 €


21 €

21 €


18 €

18 €


15 €

Riese & Müller
ChargerDetails

Performance CX
gefederte Sattelstütze (Cane Creek)
1000Wh
32 €

29 €
26 €
23 €
Riese & Müller
Charger Mixed
Performance CX
gefederte Sattelstütze (Cane Creek)
1000Wh
32 €
29 €
26 €
23 €
Riese & Müller
Nevo
Details
Performance CX
500Wh
27 €


24 €

24 €


21 €

21 €


18 €

18 €


15 €

Riese & Müller
Roadster City
Active Plus
Nabenschaltung Shimano
500Wh
27 €


24 €

24 €


21 €

21 €


18 €

18 €


15 €

Riese & Müller
Roadster Touring
Stadtrakete
Details
Active Plus
Kettenschaltung Shimano
500Wh
27 €


24 €

24 €


21 €

21 €


18 €

18 €


15 €

Riese € Müller
Load
Performance Line
Vollfederung
800Wh-1000Wh
42 €
39 €
37 €
34 €
E-ALL-TERRAIN


400Wh

Moustache XRoad 1
Active
500Wh
25 €


22 €

22 €


19 €

20 €


17 €

17 €


14 €

Orbea Keram 20 Komfort
Active
500Wh
25 €


22 €

22 €


19 €

20 €

17 €

17 €


14 €

Moustache XRoad FS 5
Details
Performance CX, Vollfederung
500Wh
30 €


27 €

27 €


24 €

24 €


21 €

21 €


18 €

E-MOUNTAIN
400Wh


offroad

Moustache Off2
27,5 "
Details
Performance
500Wh
26€
23 €


33€

23 €
20 €


30€

20 €
17 €


27€

17 €
14 €


24€

Moustache Trail2 (Fully)
27,5 "
Details
Performance CX
Vollfederung
500Wh
29€
26 €


36€

26 €
24 €


33€

23 €
20 €


30€

20 €
17 €


27€

Bikes ohne Motor
MOUNTAIN


offroad

Bergamont Roxtar LTD
27,5 "
18 €


21 €

16 €


20 €

14 €


18 €

12 €


16 €

Bergamont Roxter 4.0
27,5 "
16 €


19 €

14 €


18 €

12 €


16 €

10 €


14 €

Bergamont Revox 5.0
29 "
auch mit festem Gepäckträger
16 €


19 €

14 €


18 €

12 €


16 €

10 €


14 €

CYCLO CROSS
Kona Rove 28"
Gravelbike
22€
20€
16€
14€
---------------------------------
SCHNUPPERN!
(*) Shoppingtarif/Citybike/Testen ob´s passt 😉
3 h - 10:00 bis 13:00, nur nach Verfügbarkeit, bitte unbedingt vorher anmelden!
Nur 1x buchbar 😉
incl. Helm
incl. Schloss
15 €
400Wh oder 500Wh Sicherheits- und Reserveakku
Pro Tag und "genutzt"
vorsorgliche Mitnahme ist kostenlos 😉
3€ (400Wh)
5€ (500Wh)
---------------------------------
Nyon-Computer - Navigationssystem mit vorinstallierten Tourenvorschlägen
Alternativ: COBI-Hub mit Smartphone
Pro Tag
5 €
---
Prices equipment
| | | |
| --- | --- | --- |
| Of course: | Detailed and competent route and tour advice, roadbooks, GPS data, map excerpts | included |
| free | high-quality padlock, pump, puncture spray, spare hose, tool set, first aid kit, bottle holder on request and if possible mounted | included |
| | Bicycle cleaning, simple little backpack | included |
| | | |
| Charge for complete rental period | Helmet, freshly cleaned and disinfected | 3 € |
| | high-quality panniers (Ortlieb, Vaude) | 5 € |
| | Child seat (up to 25kg) | 3 € |
| | | |
| Deposit | 300 € in cash or by credit card reservation, no debit cards | |
| Payment | before handing over the bike | |
| to be shown | Passport, identity card, credit card | |
| Service | On request daily free service check! | At the latest after 500 km we expect you to change the brake pads, of course for free |
| restrictions | The bikes may not be used for any type of race or beside the trails we have agreed with | |
| delivery | Bike delivery or shuttle islandwide on request, some for free | |
---
Send us your reservation request via e-mail or this form