Testcourses and ladies-only camp – at some point we'll get you;)! We have a small but nice course program for you on offer.
The taster courses and daily classes can be booked directly on site according to availability, the weekly events (ladies-only courses) must of course be planned in advance, so this is a registration required.
All courses are limited to a maximum of 6 participants, the taster courses can be booked from 2 participants.
From three participants, we also like to put together an individual "weekend program", so a 2-day course with a focus on you.
EBike – introductory course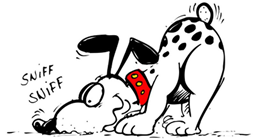 "Driving school" is certainly a bit high, we assume that you are not sitting on the bike for the first time;). We are happy if you take a little time and experience that cycling is one of the most beautiful forms of transport – as much as hiking and yet have a large radius of action.
We offer an introduction to the fascination of Pedelec / EBike for all intermediate and advanced climbers. The courses can take place daily depending on the number of participants. Just ask in the shop or by email.
EBike components and pedelec technology
driving technique
Exercises for beginners and final tour in Los Cancajos
Of course, this is not a gray theoretical event, we keep our explanations short and limit ourselves to the necessary. Then we start and we make a few laps in Los Cancajos uphill and downhill. We practice smoothly switching and braking safely so that you can approach the next pedelec tour with complete peace of mind.
If you still need more information, make yourself comfortable on our terrace, talk shop with other EBikern or with us – if we do not have something particularly important on the list.
Maybe you want to rent the bikes then, there is also a short-term rate for exploring the surrounding area on the city bike.
Or you can join a small guided tour:
Short trip to Santa Cruz for citycycling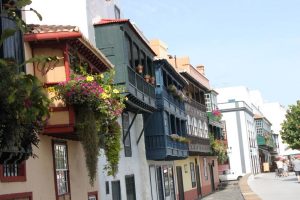 City cycling sta cruz
After a brief introduction to the wheels, it goes north, past the pyramids of Los Cancajos, the port with the cruise steamers (at least during the winter months is to be expected;)), the colorful flowered balconies, the old fortress to the replica of the Santa Maria.
A small city tour follows and then back to Cancajos. This is possible either on a short or long route – then of course with other island highlights – possible.
Practice with the (e) MTB in the "Bikepark"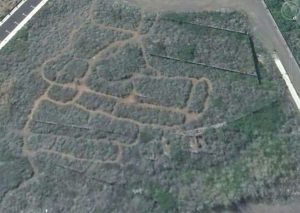 If you want to try a MTB or EMTB or just want to get more safety in the area, there is a unique opportunity right behind our shop on a half acres of sand and gravel herumzucruisen. The area is not large, "Bikepark" is also exaggerated, but offers varied constellations from easy to challenging to optimize its driving technique. We try to keep the property clean and well maintained, help us!
So you can try at your own risk and risk, if the (rental) bike suits you, so why "buy the cat in a poke".
Holiday driving school – eMTB for beginners – Ladies only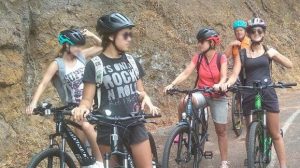 So you want to enjoy without a guy on your side a few days on one of the most beautiful islands in the world on two wheels?
Learn something and gain driving safety? In 2019 we offer stress-free riding technique and technique courses for women. With 3-6 participants, you can really relax and combine recreation, fun and learning. The exact course description can be found in the detailed course description.