Traditionally, La Palma has always been a hiking island, and the network of hiking trails has been developed accordingly. The signage is first class and you do not always necessarily need a hiking guide – often a booklet and possibly an info on transport is enough.
There are now also finally transports "one-way" to some starting points for beautiful hikes.
The island administration has installed an extensive website, which has an answer to all topics of hiking on Isla Verde. There you will find information on possible route closures, GPS data of the tours, hints on signposting and many useful tips. That's all you need except hiking boots!
The hiking trails are excellently signposted, you need as an average experienced walker only a good hiking guide and / or a smartphone for navigation.
But if you prefer it in a small group, very relaxed and well organized, we recommend the small but nice hiking tour provider Graja Tours. With Lotte you can explore the most beautiful corners of Isla Bonita in small groups.
La Palma Hiking – Must haves!
Of course everything is a matter of taste!
Must have 1 – Cumbrecita:
A quick look into the huge caldera and get an impression of the impressive dimensions of the crater! On the main road behind the tunnel to El Paso is the visitor center on the right. There you have to register (of course not if you come by bike) to be allowed to pass the barrier (otherwise there would be no parking spaces available at the top), usually this can be done at short notice. Of course it is better to plan if you register via internet.
Must have 2 – Los Brecitos downhill with overnight stay on the campground in the Caldera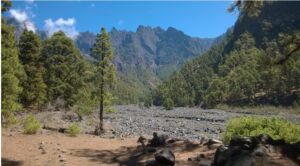 In Los Lllanos (exit at the gas station) follow the signs to Caldera de Taburiente, park your car at the bottom of the valley and take a cab to Los Brecitos. There it goes halfway comfortably downhill to the campground at the riverbed of the Taburiente river.
No showers but toilets and washing facilities, bathing in the ice cold Rio Taburiente, all without shampoo or soap. No toilet paper, no service so something for nature lovers. Cell phone can be recharged in the washroom. There are plenty of pine needles to line the tent, so all you need is a thin sleeping pad and sleeping bag to snooze on. For the discomfort there is a beautiful sunrise on the mountain tops, see photo below.
Who wants to challenge himself goes from the campsite to the Mirador Cascada de fondada (small but long waterfall – do not expect too much, the way is here the goal) and for strong condition from there worthwhile further to the Hoyo Verde (there you should be low on vertigo on the last piece!). These sections are also largely spared from bathing slipper wearers.
The next morning during the further descent the steep serpentines downhill to Dos Aquas are meanwhile also paved suitable for caravans.
Don't forget to make a small detour from Dos Aquas to the Cascada de Colores.
Reservations either in the visitor center or easier in the Internet.
Must have 3 – Springs of Marcos y Cordero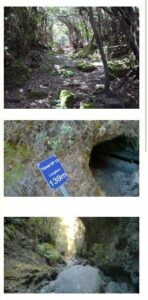 A really impressive hike through many tunnels from Casa del Monte or from Las Lomadas for advanced hikers.
The cab ride to Casa del Monte is only recommended for hardy hikers with strong teeth because of the really bad pist. Suggestion: Drive the car in front of Los Sauces towards Las Lomadas "Marcos y Cordero" up the mountain until the paved road ends at a hostel (Aula de la naturaleza). From there a hiking trail is signposted (LP 6), very romantic, partly a bit steep, beautiful sunken paths.
At the top of Casa del Monte you can take a break and follow the usual tourist trail along the canal.
Then take a thin rain jacket and a good flashlight – along with a helmet or at least a cap – because of the water fountains that shoot into the tunnels.
There and back to the Casa about 2 hours, canal walk a good 1.5 hours in addition.
If you are good on foot, continue by the springs to Los Tilos and arrive there after another 2 hours at the restaurant for refreshments. From there by cab back to Las Lomadas – cab is usually directly in Los Tilos at the end point.
Be sure to check in advance if the trail is open, it is often closed.
Bike and Hike
You also like to cycle, but you are skeptical whether you can handle a bike on such a steep island like La Palma? Thanks to EBike, the combination is finally no longer a problem!
Translated with www.DeepL.com/Translator (free version)